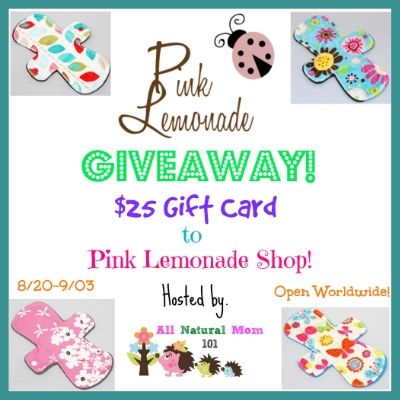 Welcome to the Pink Lemonade Shop Giveaway!
Sponsored by Pink Lemonade Shop and hosted by All Natural Mom 101.
I am sure you have heard about cloth diapers for babies. But have you heard about cloth for moms? 
Yes, it's true, they call it Mama Cloth or Cloth Pads.
Lots of moms choose to cloth diaper their babies for many reasons. For instance, cloth is better for the environment, chemical free, can save you money and they are 10 times cuter than disposables! 
Moms and women choose to use cloth pads for the same reasons.
Check out the rest of  AllNaturalMom101's review on Pink Lemonade Shop cloth pads
HERE
.
One lucky reader of mama pure and AllNaturalMom101 will win $25 to
Pink Lemonade Shop
.
The Giveaway will be open from Aug. 20th till Sept 3rd.
Open Worldwide.
Enter the giveaway via Giveaway Tool below.
Good Luck!
Disclosure: This Blog and all other promoting bloggers have not been compensated in any form for this publication, nor are they responsible for the fulfillment of the prize. Please contact Kaitlyn at www.allnaturlmom101.com if you have any questions, comments or concerns. Thank you. This post contains affiliate links.